So, you might be wondering who we are and where we come from. Actually, we've been around since 2004, would you believe it? We've been through some of the greatest highs and lows the travel industry has ever seen, and to paraphrase an excellent song… we're still standing. We like to think that's because of our tenacity, industry knowledge and passion for the business, but I digress!
Let's get back to you. Right about now you're probably thinking 'why haven't I heard of them?' or 'who are these people?', and I can give you one answer for both of those questions : French.
You see, normally I would be writing this blog in French and checking my grammar at least three times over, but thanks to that "wonderful" virus that's changed the world, here I am writing to you in English. Let me set the scene:
Circa 2004 a French couple, Sandrine Dizerens and Yoann Feillet, set up the company in Dunedin for the purpose of helping the French speaking visitors discover New Zealand. Working from home, like any good start up, they juggled raising a family and growing their business.
Over the years they've built up a small, solid team of like-minded individuals – all French & English speaking, all a bit quirky, but equally passionate about selling New Zealand, as well as Australia and the Pacific Islands, both destinations added to the agency's repertoire along the way.
How does this concern you, you might ask? I'm getting to it, I promise. Hang in there just a little bit longer.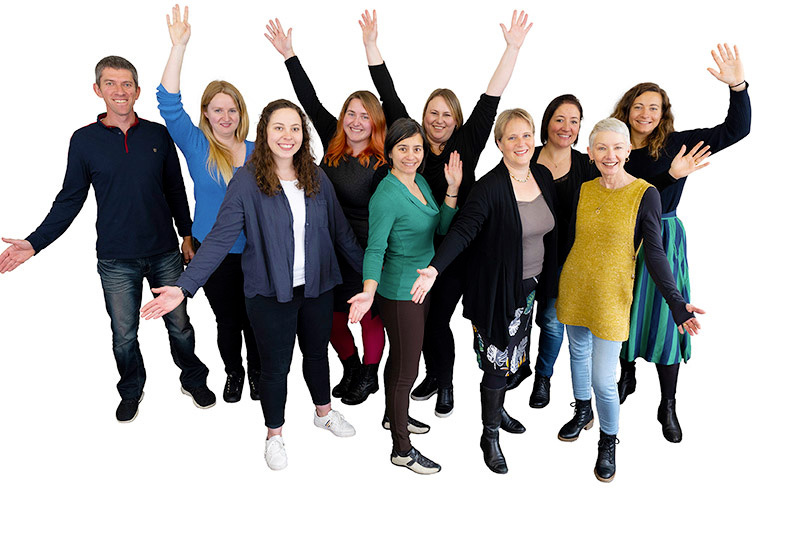 The agency grew, they added accounts personnel, looked into a new itinerary builder, made plans… but you know that old saying 'the best laid plans of mice and men'? Actually… perhaps the French don't, I'll have to ask about that one… but I digress once more. Covid-19 hit, and tourism suffered. That's about the long and short of that, but we had to make decisions. We all sat back a bit, we took stock together and we figured out our strengths.
We're adaptable, we're resilient, we move forward, we don't give up (no jokes about cheese eating surrender monkeys, please). We have a great knowledge of the South Pacific, and a great network of unique, fantastic tourism suppliers. We love what we do, we love New Zealand, we love Australia, we love the Pacific Islands and their beaches and palm trees, we love helping people. We love… France.
Well, that's different.
But as I'm sure you know, a lot of people love France, too, not necessarily just the French. A lot of people might be wanting to go to France but can't leave the country right now. A lot of people want to learn a language. We have that. Some of us love cheese enough that they're considered honorary French citizens by their colleagues (guilty). That's something.
So we took a leaf from the Kiwi part of our DNA, and in true number 8 wire fashion, we began to reinvent ourselves. Of course, that kind of reinvention when your company has been directed towards a certain market for so long takes a little bit of time… but here we are, and here you are… mesdames et messieurs, let me present you with your amuse-bouche:
Over the course of 4 days and 3 nights, discover Dunedin with a French touch. Work on your French language skills, and roam the city and the Otago peninsula in between enjoying some great food and wine… all while learning about laid back, beautiful Dunedin with your insider, local and native French speaking guides. More info about this Dunedin tour package here.
From 30th of July to 2nd of August 2020
Treat yourself to a chic, luxury getaway to Queenstown à la française. Immerse yourself in French culture and language with a native French speaking guide, race the slopes with panache, and end your day with some great new friends and a glass of wine while eating a French fondue, in front of a roaring fire. Enjoy great meals and excellent food & wine in the company of like minded people, all whilst improving your French, and let your worries and sore muscles fade away during your time at The Spa at Nugget Point. More info about this Queenstown tour package here.
From 11th to 14th of August 2020
Say au revoir to your office and come relax with us in beautiful Akaroa, where nature and culture combine. It might be déjà vu for some of you, but we'll make it new again with a bit of French panache. You can refine your palate, work on your penguin imitation, and practice your French (if you wish!) – all in the span of 4 days. We have the savoir-faire and the expert guide, all that's missing is you! More info about this Akaroa package here or read our blog article about Akaroa here
Take a day out on the Otago Peninsula with our knowledgeable French photographer & guide and give yourself the opportunity to learn a bit more about photography in a beautiful landscape. Gain the knowledge to switch your camera into manual mode and really go wild! In English or French. More info about our guided photography around Dunedin here.
PS: If you want to see what he's capable of, and what you can aspire to, check out his website travelnaturephotography.com!
Thank you for having taken the time to get to know us, and we'd love to have the chance to get to know you too. So come with us and see the South Pacific with a certain je ne sais quoi – a French inspired twist to your holidays that can help make up for the fact that you're not going to be able to climb the steps to the Sacre Coeur just yet.
Ebony, Kiwi and Honorary French citizen
Antipodes Travel est une agence de voyage basée à Dunedin, dans l'île du Sud de la Nouvelle-Zélande et fondée par Sandrine et Yoann Feillet, deux francophones qui vivent dans ce pays depuis 2002. Notre équipe organise des voyages à la carte, des circuits en liberté et des séjours guidés en Nouvelle-Zélande, en Australie et dans les îles du Pacifique.